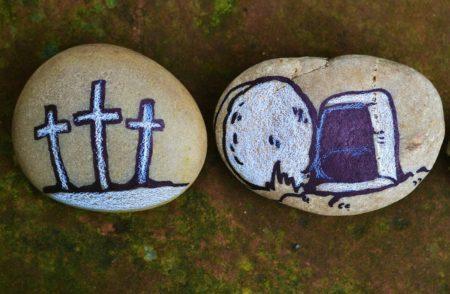 I'm a big believer in giving the children's sermon as much thought as I do any other part of worship.
Creating A Children's Easter Sermon
Three years ago, I was desperately searching through books and websites, trying to find something suitable for an Easter Children's Sermon. I'm a big believer in giving the children's sermon as much thought as I do any other part of worship. It's a wonderful opportunity to inspire children and to model theological conversation with kids for adults. I was looking for something that was both developmentally appropriate and theologically rich. Since most kids would not have been in church for Maundy Thursday or Good Friday, the children's time also had to encompass the crucifixion and the grief of Jesus' death.
With this in mind, I developed a children's time inspired by the simple, profound storytelling of curricula like "Catechesis of the Good Shepherd," "Godly Play" or "Worship and Wonder." Make sure you take some time to practice both the words and the movements you will need for this lesson. This story is dramatic!
What You'll Need
Basket
Piece of fabric or felt as an underlay (optional)
Picture of Jesus
Paper heart or picture of a heart
Rock big enough to cover most of the picture of Jesus
Picture of the women going to the tomb
The Sermon
Begin with your items in the basket. If your group is unfamiliar with storytelling, introduce the story as they come forward.
We're here today celebrating Easter. I'm going to tell you the story of Easter. At the end, you can help me put the things back in this basket. Unfold the fabric underlay, if you're using it.
There was once a man who loved big enough to change the world. Take out the picture of Jesus and lay it in front of you.
They could tell that he was with God and God was with him. Everywhere he went, people would ask this man, whose name was Jesus, "What's the best way to live?" And Jesus would say, "Love. Love God and love yourself and love everyone else." Take out the picture of the heart and lay it next to Jesus.
Now there were some people who did not like what Jesus was teaching. They did not want to be told to love God, love themselves and love everyone else (touch heart) because it's a very hard thing to do. So instead of learning this hard thing, they decided to have Jesus killed.
This is the hard part of the story. But when we tell this part of the story, we always say, "This is not the end of the story." Because God's story always has a good ending. The hard part of the story is that Jesus' enemies did a bad thing and they had him killed on a cross. And so the cross can remind us of a very sad thing. Take out the cross and set it next to the heart.
Jesus' friends, the ones who knew that God was in him and that he was in God, were very sad. Their hearts were broken. Tear the picture of the heart in half. Set the two pieces down with some space in between them.
They put Jesus in a tomb, which was like a cave, and they used a big stone for a door. Roll the stone in front of the picture of Jesus. Tuck the picture of Jesus behind you or turn it over so the blank backside shows.
And then, I imagine they took some time to cry and to hug each other and to try to fix their hearts. Put heart pieces closer together but not completely touching.
After Jesus died, three of his friends—people who loved him and missed him—went to the tomb where he was buried. Take out the picture of the women. Set it next to the stone.
The tomb was kind of like a cave, but with a huge, huge rock to close it shut. But when they got there, they discovered that the huge, huge rock that had been blocking the door was moved. Move the rock a little bit.
And when they went inside, they saw a man, dressed in a white robe, who said to them—Don't be afraid! You're sad about Jesus but this is Good News—he is alive again! 
This is a mysterious story.
This is the story that changes the cross from a sad thing to a good thing. It reminds us that no matter what happens, no matter how hard things get sometimes, God is always with us. This makes us brave enough to love God and love ourselves and love each other. Put the heart pieces completely back together.
I ended this by blessing each child saying, "God is always with you" and making the sign of the cross on their hand or forehead. The downside to this is that with a large group of children, it took a long time. If you have more than five to ten kids, consider recruiting a couple other adults to help or close with a simple prayer instead. "God, thank you for always being with us. Help us to love you, love ourselves and love everyone else."
A Lectionary Note
This story follows the account in Mark's gospel. I've used it since then, even if we're reading from another gospel account. However, if you prefer, you can adapt this story slightly to make it line up more closely with the other gospels. For Matthew, the lectionary reading for 2020, use a picture of two women going to the tomb. Instead of saying there was a man inside the tomb, say, "They saw an angel, sitting on top of the rock…" Continue the rest of the story as written.
Editors Note: Amelia Richardson Dress has turned turned this sermon into a picture book, which is available for free download on her website.
The post An Easter Children's Sermon appeared first on Building Faith.